Men in Black: International Sunglasses with Chris Hemsworth & Tessa Thompson
We're an affiliate
As an Amazon Associate, we earn from qualifying purchases at no additional cost to you whatsoever.
They're back and they dress in black. And they have really cool sunglasses because they are the Men In Black… and er… Women in Black. This time, MIB Agents are equipped with surprisingly affordable Police Sunglasses as standard in MIB: International.
Men In Black: International features a new cast of stars including Chris Hemsworth, Tessa Thompson and Liam Neeson. All wearing some pretty cool looking sunglasses.
The new movie comes seven years after MIB 3 and this time we get to see the International MIB branch in Europe.
Don't forget to check out some of Chris Hemsworth's other Sunglasses including Thor in Avengers: Endgame and Extraction on Netflix.
Naturally, being an MIB movie, the sunglasses are a pretty important part of an agent's uniform. We get lots of chances to see the sunglasses throughout the film, kindly provided by designer brand Police.
Men In Black: International Sunglasses – Police Eyewear Standard Issue for MIB Agents
It's pretty obvious from this closeup image of Tessa Thompson in Men In Black: International that she is wearing Police Sunglasses.  The brand etching is clearly visible on the left lens.
In fact, the designer sunglasses brand Police themselves have confirmed that they are the official eyewear for the movie Men in Black: International.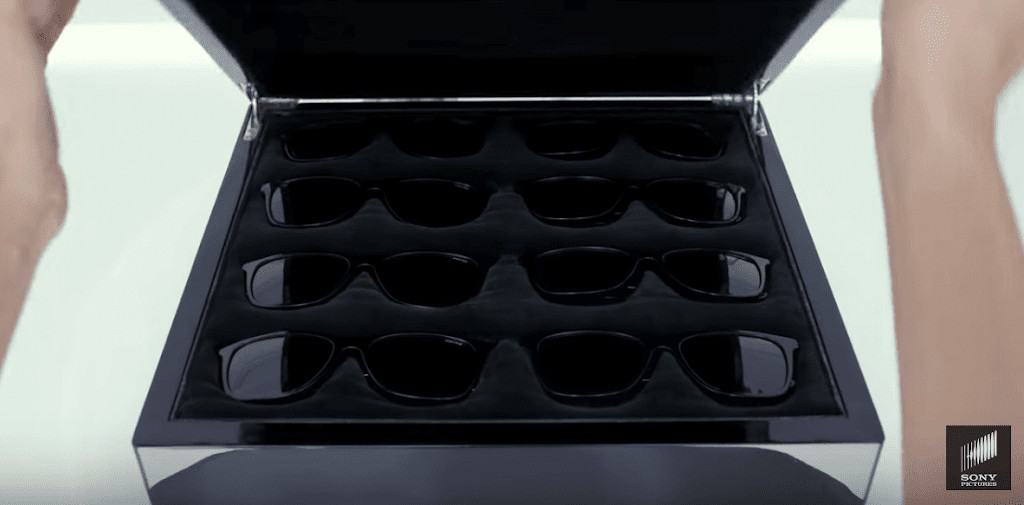 As you can see here in this photo from Sony Pictures, Police Sunglasses are standard issue for any MIB Agent.
Police Origins 1 Sunglasses as Worn in Men In Black: International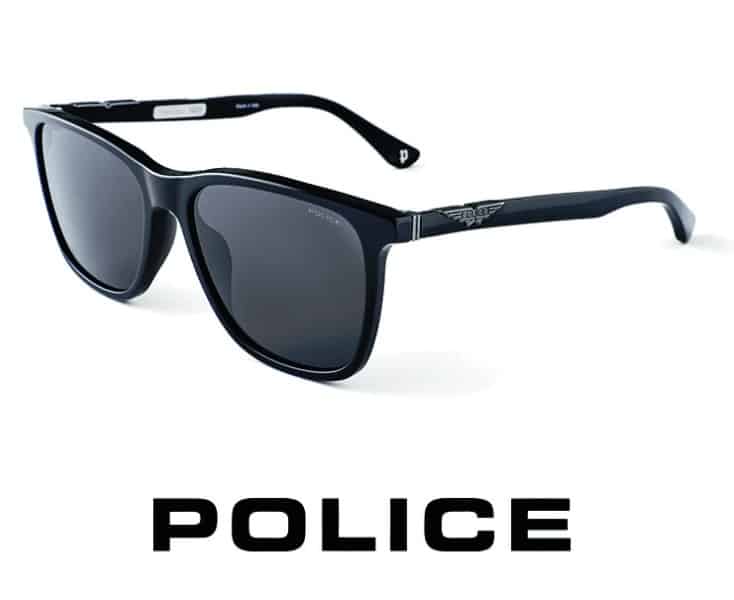 The new Police Origins 1 Sunglasses (Model: SPL872) were created exclusively for the film along with other Police frames and will be worn by all MIB Agents in the movie Men In Black: International including Agents H and M played by Chris Hemsworth and Tessa Thompson.
The square-shaped frame is made from glossy acetate, with the brand's eagle logo of the nineties featured on the temples. It will come with a customised Men in Black case and is available in four colours. Though as you would expect, the Men in Black agents will be seen wearing the black version with smoke lenses during the film.
You can find the Police Origins 1 Sunglasses as seen in Men In Black: International on Amazon here, though we expect these to sell out fast, so get your orders in early.
Find more Police Sunglasses available on Amazon here.
More Men in Black: International Sunglasses as Worn by Chris Hemsworth 
Chris Hemsworth is also seen wearing these Police sunglasses with blue-tinted lenses during the film.
We're still looking to confirm the exact model of Police sunglasses here, but it looks like they could be the Police Highway Two 5 Sunglasses (Model: SPL636-300x). These come in a shiny pink gold frame color with grey lenses, which do appear to have a blueish shade to them.  We really like the double-bridge bar on these stylish sunglasses.
Hamilton Ventura Quartz Timepiece As Featured in Men In Black: International
Something else that caught our eye when watching the MIB movie trailer very closely was Tessa Thompson's awesome looking watch.
The stunning looking timepiece worn by Agent M is the Hamilton Ventura Quartz Watch (Model: H24411732).  It's in very limited supply, but you can find it on Amazon here. The original Ventura launched in 1957 and quickly became a collector's item thanks to its unique and daring design.
Here are some quick snaps from the movie trailer featuring the Hamilton Ventura watch worn by Tessa Thompson during Men In Black International.
Images from Men in Black: International © Sony Pictures
Images of Sunglasses © Police Eyewear.
About the Author: Chris works in the eyewear sector and can also be found on @MovieRetrospect on Instagram or Twitter.
Support The Author: I don't get paid to work on this site. If you found this helpful, please buy me a coffee, it really helps a lot.