Spider-Man: Far From Home Sunglasses: Tom Holland as Peter Parker Wears Tony Stark's Glasses
We're an affiliate
As an Amazon Associate, we earn from qualifying purchases at no additional cost to you whatsoever.
Spider-Man: Far From Home is out now and as promised, contains huge spoilers from Avengers: Endgame. Hopefully, you're already all caught up – otherwise, you might want to do some catching up with Infinity War and Endgame on Amazon Video before watching the new Spider-Man movie.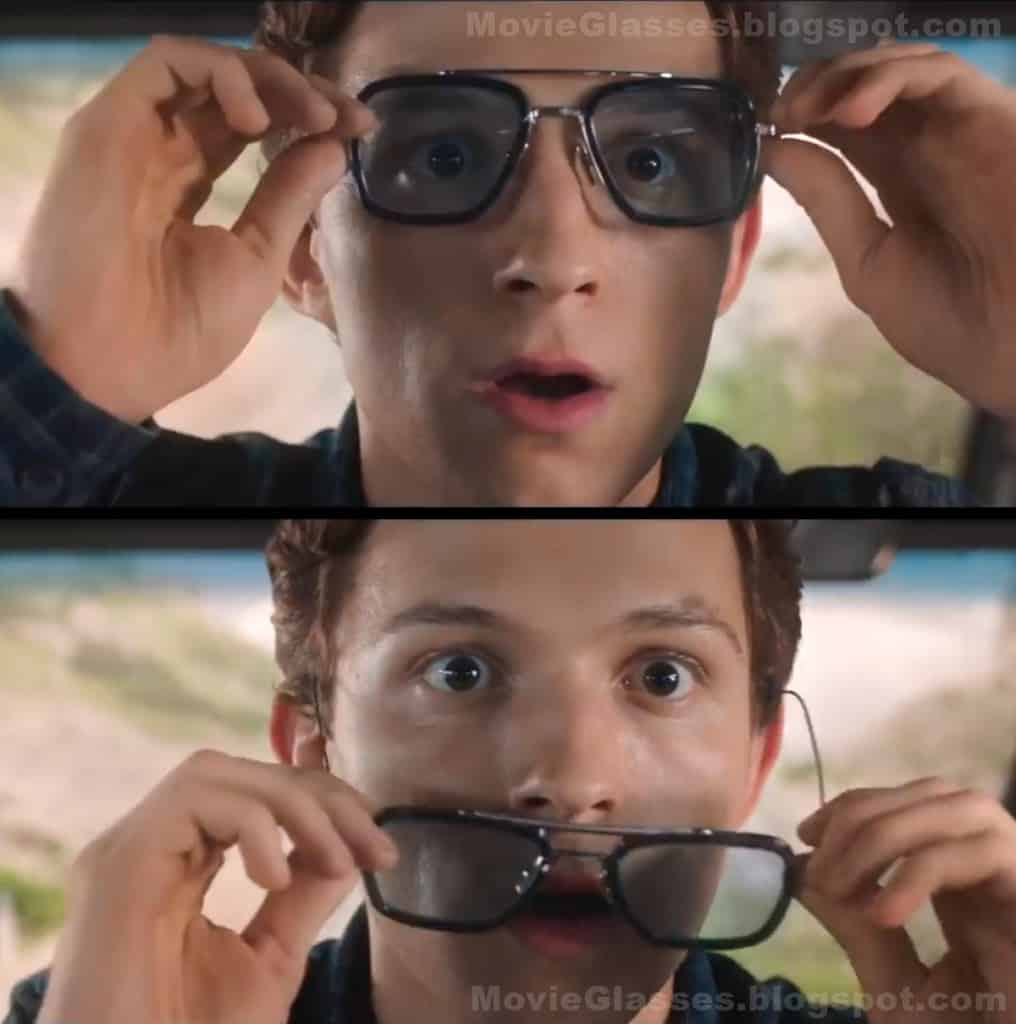 Apart from helping Peter Parker out with his Spidey Suit, Stark Industries also supplies Spider-Man (Tom Holland) with a pair of Tony Stark's highly advanced tech eyewear in Spider-Man: Far From Home.
These are the same Dita Flight 006 Glasses worn by Robert Downey Junior (Iron Man) in Avengers: Infinity War and Avengers: Endgame as mentioned in our previous post here.
Note: there may be spoilers ahead for previously released MCU movies including Avengers Endgame…
Stark Industries Eyewear
Apparently Tony Stark was a busy man during his life. Focused on weapons manufacturing, developing nano-tech into his Iron-Man suit(s), developing Spider-Man suites and full-time Avenger. It seems Mr Stark also had time to get into the Sunglasses and Eyewear business!
Watch out Luxottica, these Stark Industries Glasses make the average pair of Ray-Ban's look positively pre-historic.  Tony Stark's Eyewear comes nicely packaged in a hard case for added protection. The Stark Industries logo neatly embossed in gold on a certificate of authenticity card insert… Though they seem to have omitted a cleaning cloth, which seems a bit tight to me.
But of course, being a Stark Industries product, these aren't just a normal pair of glasses or sunglasses, as Peter Parker (Tom Holland) finds out when he wears them during a bus ride on his travels through Europe.
Tony Stark's Sunglasses with AI & Heads-Up-Display (HUD) – Perfect for any Avenger
When Peter Parker puts on Tony Stark's sunglasses, they immediately scan his identity and acknowledge the user – Peter Parker.  After all, we don't want these things switching on for any old fool.
The user, in this case – Peter Parker, can communicate with the highly-advanced Artificial Intelligence (AI) – F.R.I.D.A.Y – to gather vital information about their environment and the people around them. This view through the lens (below), not only identifies people but can even read their text messages.
Tony Stark's High-Tech Sunglasses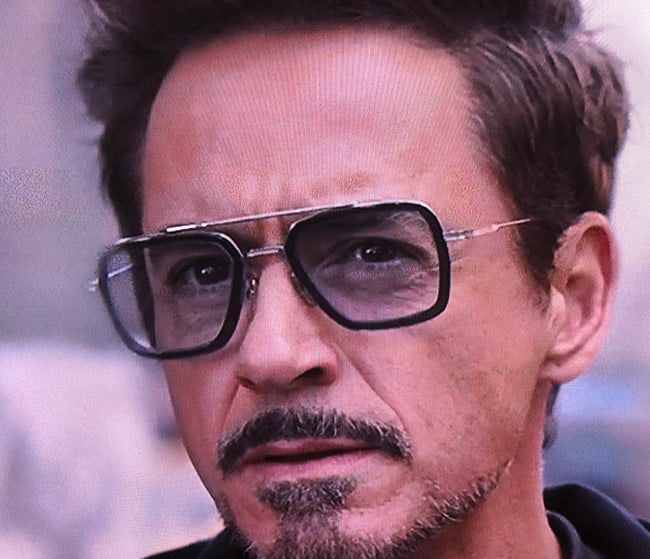 Of course, this isn't the first time we've seen these sunglasses.  Tony Stark himself wore these glasses a number of times in previous Marvel films. Most notably, with a blue/grey tint during the early fight with Ebony Maw in Avengers: Infinity War.
In the film, Tony also uses these awesome glasses to communicate with his new AI supercomputer F.R.I.D.A.Y.
As well as the useful Heads-Up-Display (HUD) full of useful information and data, the glasses also provide Tony with the ability to track objects or people, even through walls.
Spider-Man: Far From Home Glasses as Worn by Peter Parker & Tony Stark – Dita Flight 006 Sunglasses
Tom Holland as Peter Parker wears Tony Stark's Dita Flight 006 Sunglasses in Spider-Man: Far From Home. They are Smoke Grey Crystal/Black Palladium color with custom tinted lenses, which are very light-blue-grey in color.  (Technically, they change from clear to blue, depending on the activity of the glasses and the AI at the time).
These sunglasses are truly fit for a billionaire genius like Tony Stark. Dita eyewear is handmade in Japan to the highest quality, making them very limited in availability and highly sought after.
If you want to grab a pair just like Peter Parker or Tony Stark you may still find these Dita Flight 006 sunglasses on Amazon.  But we have to be honest, it's unlikely that these will include the AI and HUD as featured in the film.
Budget Alternative Tom Holland Glasses
If the official Dita Flight 006 sunglasses are a bit pricey, there's a very good alternative by Sheen Kelly on Amazon. (Or Amazon in the UK here).
These sunglasses are an absolute bargain. They look just like those worn by Tom Holland in Spider-Man: Far From Home and Robert Downey Junior in Avengers: Infinity War and Avengers: Endgame.
Watch Spider-Man: Far From Home
Spider-Man: Far From Home is another great addition to the MCU. If for some reason you haven't seen it yet, you can stream it below including additional bonus content.
Don't forget to check out our popular post about all the sunglasses featured in Avengers: Endgame here or Chris Hemsworth's new Police Sunglasses from Men In Black: International here.
About the Author: Chris works in the eyewear sector and can also be found on @MovieRetrospect on Instagram or Twitter.
Support The Author: I don't get paid to work on this site. If you found this helpful, please buy me a coffee, it really helps a lot.