Chris Hemsworth Sunglasses in Extraction
We're an affiliate
As an Amazon Associate, we earn from qualifying purchases at no additional cost to you whatsoever.
Chris Hemsworth stars in the latest movie from Netflix: Extraction (2020) and is clearly seen wearing some awesome-looking square aviator-like sunglasses, especially in the early scenes of the movie.
Written and produced by the Russo brothers – best known for Avengers: Infinity War and Avengers: Endgame – Extraction is an action-packed thriller, full of impressive stunts, fight sequences and gunplay that would keep any John Wick fan entertained for a couple of hours.
Especially impressive is a lengthy action sequence including a car chase, filmed to look like a single shot, with the camera moving around and even into the moving car.
Anyway, let's talk about those wicked-looking sunglasses.

Hemsworth is mostly seen wearing the sunglasses in the early scenes of the movie.  Once the action gets going, there is no way his character – Tyler Rake could keep a pair of sunnies like this intact with all the fists and bullets flying about all over the place.
We're lucky enough to get a good look at Chris Hemsworth's sunglasses in the movie.  They are square aviator-like in shape with metal gold rims and dark lenses.  Though there isn't any clear branding on the sunglass lenses as there might be with a pair of sunglasses like Ray-Ban.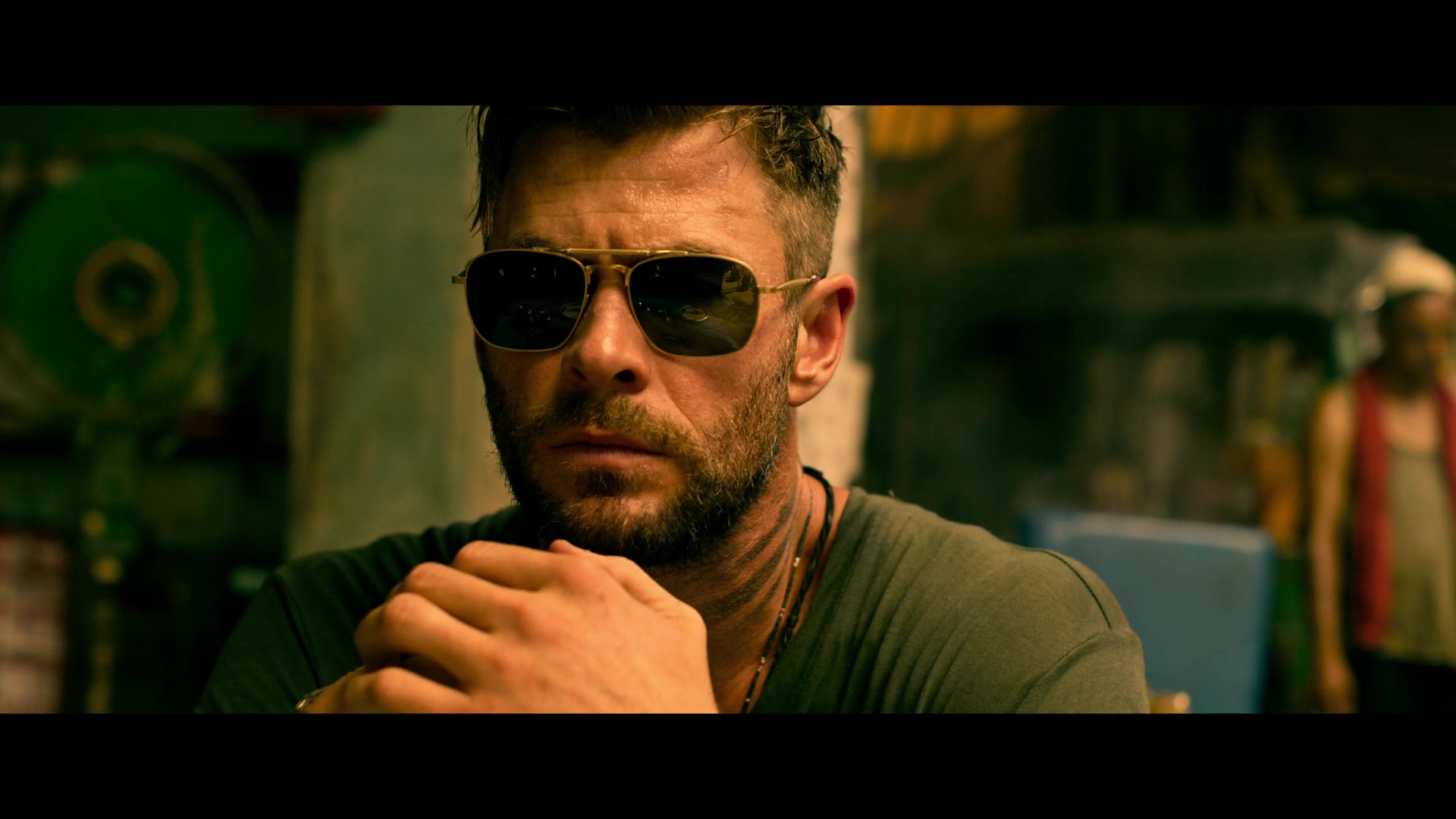 Matsuda Sunglasses Worn by Chris Hemsworth in Extraction
However, we have been able to identify these sunglasses as Matsuda by the gold logo on the arm tips.
These Matsuda M3040 Sunglasses with a Gold frame are fairly hard to come by and generally don't come cheap.  After all, Matsuda uses the finest metals in the world – titanium, stainless steel, sterling silver, and 18k solid gold. Using their master Japanese craftsmen, they transform the raw materials into intricately detailed works of art.
If you've got the cash, these sunglasses would be a great investment.  You could try sourcing them from Amazon here.
Alternative Affordable Extraction Sunglasses by Ray-Ban
If you're having trouble getting hold of a pair of Matsuda M3040 Sunglasses, or you just want to find a more affordable alternative, we have a great suggestion. Ray-Ban RB3136 001 CARAVAN Aviator sunglasses are a very close match and an excellent choice.  You can find these easily on Amazon here.
Casio G-Shock GW-9400-3 Rangeman Wristwatch Also Seen in Extraction
Chris Hemsworth is also seen wearing a Casio G-Shock GW-9400-3 RANGEMAN wristwatch in the movie Extraction.  This is a pretty neat piece of kit for any wristwatch fan. If you're looking to complete the Extraction look, you can find this on Amazon here.
Images from Extraction © Netflix
Images of Sunglasses © Ray-Ban & Matsuda.
About the Author: Chris works in the eyewear sector and can also be found on @MovieRetrospect on Instagram or Twitter.
Support The Author: I don't get paid to work on this site. If you found this helpful, please buy me a coffee, it really helps a lot.