Charlize Theron wears Dior Sunglasses in Young Adult
We're an affiliate
As an Amazon Associate, we earn from qualifying purchases at no additional cost to you whatsoever.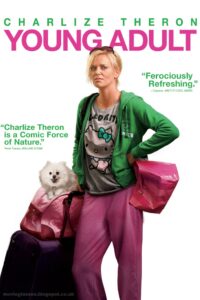 Charlize Theron stars in Young Adult
Charlize Theron is a stunning looking woman, as we all know, but one thing I love about her is that she is not afraid to rough it up for some of her movie roles. In fact, she won an Oscar for her portrayal of notorious serial killer Aileen Wuornos in Monster (2003).
In the poster (above) for Young Adult, Charlize Theron couldn't be any more casually dressed, she looks like a teen-aged girl who just rolled out of bed at three o'clock in the afternoon.  But its okay though because she has a dog in a bag and Dior sunglasses on top of her head, so she looks fabulous… well, okay, maybe not, but maybe her character in the film thinks she does?
Charlize Theron plays Mavis Gray in the recent Jason Reitman (Up in the Air) film written by the Oscar winner Diablo Cody, the dialogue in the film is suitably sharp as you would expect from the Juno screenwriter.
Mavis Grey is a recently divorced fiction writer of young adult novels who hasn't really grown up herself since her prom-queen days. She decides to go back to her home town to rekindle her romance with her ex-boyfriend, even though he is happily married, with a newborn baby girl.
Its a compelling film, that is more drama than comedy, but its well worth your time, but bare in mind that Mavis is not exactly the nicest person to have ever lived… she's only human.
Charlize Theron is seen wearing her Dior sunglasses throughout the movie – not really surprising that they are Dior – given that Charlize Theron is the spokeswoman for Christian Dior in the J'adore advertising campaign. Check out some of these images below (click to enlarge).

Charlize Theron in Young Adult looking rough with a dog in a bag, but wearing Dior Sunglasses so it's all good.
Dior Zemire 1 Sunglasses worn by Charlize Theron in Young Adult
The Dior Sunglasses model worn by Charlize Theron in the film Young Adult are these Dior Zemire 1 Sunglasses in colour 0MN6JS – Dark Tortoise/ Black with grey gradient lenses.
Sadly, the Dior Zemire 1 sunglasses are from the 2010 collection so are quite hard to come by now. However, you can still find some great looking Dior Sunglasses from the more recent Dior collections on Amazon here.
About the Author: Chris Russell works in the eyewear sector and can be found on Google+ or on @MovieRetrospect on Twitter.