Freddie Mercury Wears Aviator Sunglasses in Bohemian Rhapsody with Rami Malek
We're an affiliate
As an Amazon Associate, we earn from qualifying purchases at no additional cost to you whatsoever.
The new Queen and Freddie Mercury biopic Bohemian Rhapsody built up some serious buzz of Oscar talk for it's main star Rami Malek, who put in the performance of his career so far as the Queen frontman Freddie Mercury.
That buzz turned out to be justified as Malek did in fact take home the Best Actor Oscar at the Academy Awards in 2019.
The film had an early release in the UK, so I was lucky enough to see it before the reviews and buzz had built up.
While it's by no means a perfect film, it does shy away from some of the darker themes you'd expect in a film about a rock and roll band of the 70's & 80's, I personally didn't mind one bit.  I had a great time watching this film – its fair to say it is a true love letter to the amazing music that Queen produced and I loved the movie for the music and for the amazing performance by Rami Malek.
Freddie Mercury's Iconic Sunglasses
The film covers a time period of more than a decade from the 1970's to the 1980's so there are numerous sunglasses worn throughout the movie as well as some pretty retro prescription eyewear frames too.  But most prominently during the film we see Rami Malek as Freddie Mercury wearing some highly reflective mirrored Aviator style sunglasses.
These mirrored Aviator style sunglasses are worn most notably during a key scene during the film where the press are hounding Freddie Mercury about his personal life and sexuality.  It's a high-pressure moment for Freddie and the rest of the band and it was no wonder he was hiding behind the large reflective aviator sunglasses.
Bohemian Rhapsody Sunglasses as Worn by Freddie Mercury
It's not clear exactly which model sunglasses Freddie Mercury wears during this key scene in Bohemian Rhapsody, but these Ray-Ban RB3025 Mirrored Aviator sunglasses would be a near-perfect match.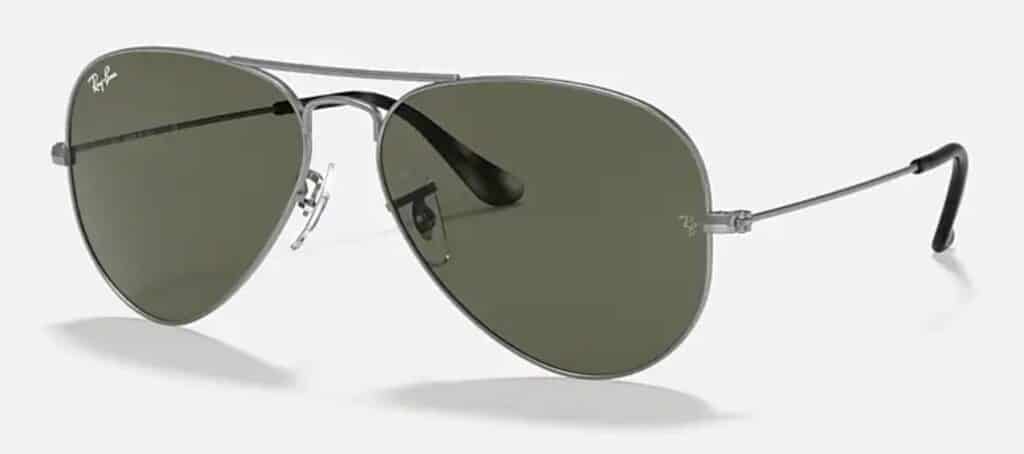 These Ray-Ban Aviator Sunglasses are arguably some of the most iconic and popular sunglasses ever made.  They have been worn by many music and movie stars over the years and they never go out of fashion.  You can find these Ray-Ban Aviator sunglasses on Amazon.com or Amazon.co.uk.
More Bohemian Rhapsody Sunglasses and Eyewear
There are also numerous sunglasses worn by the actors Gwilym Lee, Ben Hardy and Joe Mazzello playing the other members of Queen (Brian May, Roger Taylor and John Deacon) in the film as seen here.
We also get to see Mike Myers as Ray Foster wearing some pretty large retro eyewear in the film too. If you can help identify any other sunglasses or eyewear worn in the movie then drop us a comment below or via social media.
Bohemian Rhapsody Sunglasses in Action
If you haven't seen the film, you can stream it on Amazon.com or Amazon.co.uk, or you can check out the trailer below to see some of the classic Freddie Mercury sunglasses & eyewear in action… and the classic songs too of course.
Bonus Offer – FREE Music! Listen to the Bohemian Rhapsody Soundtrack for FREE!
Now, I'm off to listen to that soundtrack.  If you're a new member, you can listen to the Bohemian Rhapsody soundtrack and more than 50 Million other songs for FREE with a FREE Trial of Amazon Music Unlimited on Amazon.com or Amazon.co.uk.
We use our Amazon Music Unlimited membership constantly in our home, you can even take your music with you in the car or on the train with Amazon's brilliant Music App for your phone, which allows you to download your favorite songs so you can listen to them anywhere, even if you're not connected to the Internet.
With Amazon Music Unlimited you can also pump out your favorite tunes around the home over a Sonos Speaker System or other smart speakers including Amazon Echo.
Or you can buy the Bohemian Rhapsody Soundtrack below if you're not into the Music Unlimited Membership deal.
About the Author: Chris works in the eyewear sector and can also be found on @MovieRetrospect on Instagram or Twitter.
Support The Author: I don't get paid to work on this site. If you found this helpful, please buy me a coffee, it really helps a lot.