Nightcrawler Sunglasses – Jake Gyllenhaal Wears Clubmaster Horn-Rimmed Style Sunglasses
We're an affiliate
As an Amazon Associate, we earn from qualifying purchases at no additional cost to you whatsoever.
Jake Gyllenhaal will be wearing Clubmaster style Horn-Rimmed Sunglasses in his upcoming movie Nightcrawler.  Due for release in October this year (November in the UK).
The Nightcrawler sunglasses featured throughout the film are a vintage style shade. They also feature prominently on the movie poster (as seen here).
Jake Gyllenhaal can be seen with the sunglasses hanging from his shirt throughout the new movie trailer (as seen below).
The Clubmaster / Horn-Rimmed style frame was arguably made famous by Ray-Ban but have become so popular that just about all respectable eyewear brands are now making sunglasses in the iconic style.
Jake Gyllenhaal Nightcrawler Sunglasses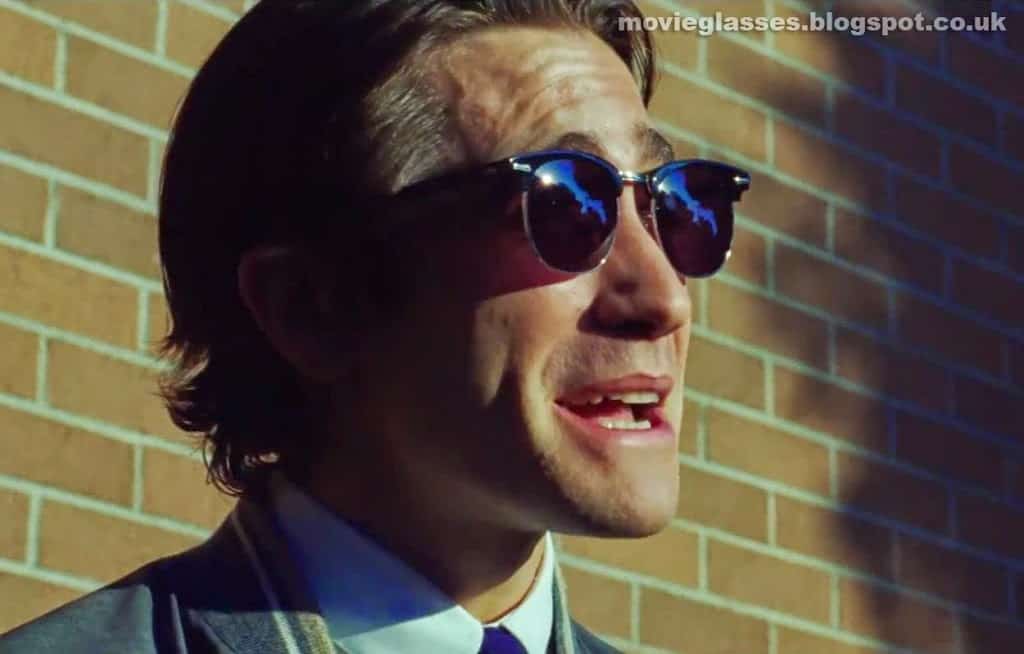 Although the sunglasses featured here do look very much like Ray-Ban's its hard to be 100% sure, as there is apparently no Ray-Ban logo printed on the top corner of the right lens.
That being said, it's not uncommon in the movie business to remove the branding from the sunglasses in post-production. This practice can be seen clearly in the trailer for Those Who Wish Me Dead with Angelina Jolie, who wears Ray-Ban Aviator sunglasses in which the branding appears and disappears between shots.
These Ray-Ban RB3016 Sunglasses have been around forever and with good reason. They are a solid pair of sunglasses built to the highest standard by Luxottica. The Clubmaster is a horn-rimmed style that is built to last and can be worn for pretty much any casual or proffesional occasion.
You should have no trouble finding a pair of Ray-Ban RB3016 Clubmaster sunglasses on Amazon.com or Amazon.co.uk.
Watch the Nightcrawler Movie Trailer
You can clearly see Jake Gyllenhaal's sunglasses throughout the movie trailer for Nightcrawler right here.
If you haven't seen Nightcrawler yet, it's satisfyingly dark and well worth checking out on Amazon here.
About the Author: Chris works in the eyewear sector and can also be found on @MovieRetrospect on Instagram or Twitter.
Support The Author: I don't get paid to work on this site. If you found this helpful, please buy me a coffee, it really helps a lot.