Those Who Wish Me Dead – Angelina Jolie Sunglasses
We're an affiliate
As an Amazon Associate, we earn from qualifying purchases at no additional cost to you whatsoever.
Angelina Jolie wears Ray-Ban Aviator sunglasses in the new action-thriller Those Who Wish Me Dead directed by Taylor Sheridan and based on the book of the same name.
The large aviator Sunglasses are clearly visible in the trailer, though interestingly they seem to have done some post-production in the editing room to remove the Ray-Ban logo from the right lens in some shots.
Angelina Jolie occupies a lonely fire lookout tower in the desolate Montana mountains and takes on the task of helping a young boy escape after he witnesses a brutal murder. The film also stars Nicholas Hoult, Aidan Gillen, Jon Bernthal and Tyler Perry – the latter two of which are also seen wearing sunglasses in the movie's trailer.
Angelina Jolie Wears Ray-Ban Aviator Sunglasses in Those Who Wish Me Dead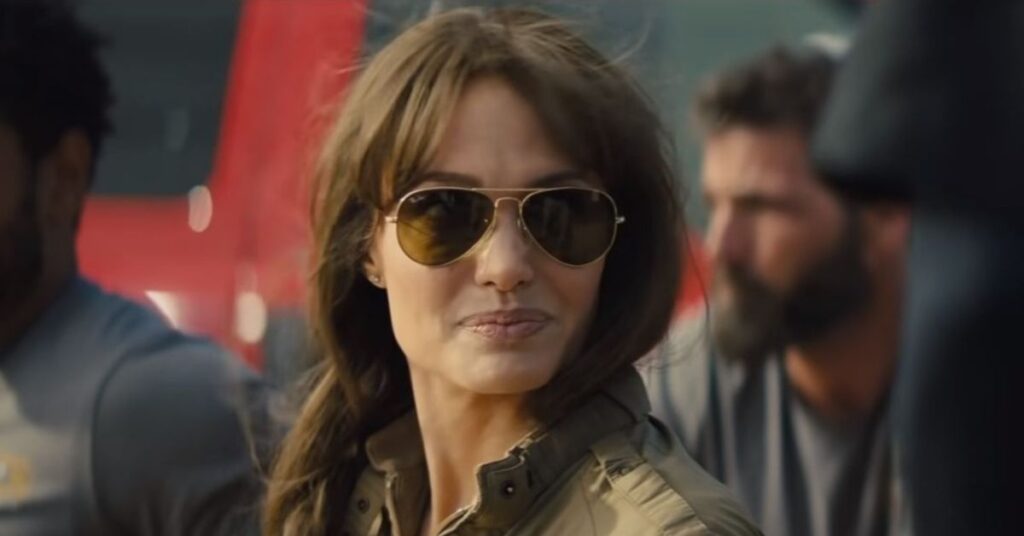 Angelina Jolie wears Ray-Ban Aviator Classic RB3025 Sunglasses in the movie Those Who Wish Me Dead. This frame is available in many colours & sizes, though Jolie wears these in Gold with Brown lenses (001/33) in the film, which can be easily found on Amazon.com or Amazon.co.uk.
The Ray-Ban Aviator Classic RB3025 is one of the most iconic sunglasses around and is worn by countless celebrities and has been featured in hundreds of movies. When it comes to choosing a pair of sunglasses, you can't go wrong with these, no matter what colour you go for.
Those Who Wish Me Dead Sunglasses as worn by Jon Bernthal
Jon Bernthal plays the local Sheriff in the movie Those Who Wish Me Dead and is seen wearing large Aviator style sunglasses with very dark lenses.
It's a little hard to get a good look at the sunglasses in the trailer, but they have a double bridge and if you look very closely, there is some branding on the top of the right lens, which appears to be Ray-Ban.
Like Angelina Jolie, we think Jon Bernthal is also wearing Ray-Ban Aviator Classic RB3025 sunglasses in the movie Those Who Wish Me Dead. Though Jon is wearing colour 003/3F – Black with Green Lenses.
If you prefer these Aviator sunglasses in the dark colour like Jon Bernthal, you can find these easily on Amazon.com or Amazon.co.uk.
Tyler Perry Sunglasses in Those Who Wish Me Dead
Tyler Perry is also seen wearing Aviator Sunglasses in Those Who Wish Me Dead. These sunglasses have a flat top, unique bridge style and a very light tint.
Angelina Jolie Wearing ESS Goggles in Those Who Wish Me Dead
Forest fires make up some of the key moments in the movie and Angelina Jolie's character – Hannah Faber is seen wearing Goggles by ESS during these scenes. The Goggles have a clear tint and primarily serve as protective eyewear against the extreme heat and debris caused by forest fires.
ESS specialize in Tactical Eyewear, "Built for Battle" they claim to be the "toughest eyewear in the world". The ESS product range includes Ballistic Sunglasses and Ballistic Goggles designed to serve military personnel, first responders, and other everyday heroes. ESS Ballistic-Grade Eyewear is engineered to meet or exceed the most stringent U.S. Military and ANSI Z87.1-2015 specifications.
The goggles Angelina Jolie wears in Those Who Wish Me Dead appear to be from the ESS Striketeam Range, which are actually part of the ESS Wildland Fire Collection of Safety Goggles. It's fair to say that Angelina Jolie's eyes are well protected during these intense scenes.
If you're looking for a pair of ESS Striketeam Goggles, you should be able to find them on Amazon here. They are absolutely amazing value, especially when you consider how priceless your eyesight is.
View the Sunglasses and Goggles in the Trailer
Check out the trailer here for a closer look at these awesome sunglasses and goggles featured in the movie.
Images from Those Who Wish Me Dead © Warner Bros. Pictures
Images of Sunglasses © Ray-Ban & ESS.
About the Author: Chris works in the eyewear sector and can also be found on @MovieRetrospect on Instagram or Twitter.
Support The Author: I don't get paid to work on this site. If you found this helpful, please buy me a coffee, it really helps a lot.