Lewis Hamilton Wearing Emporio Armani Sunglasses in 2014
We're an affiliate
As an Amazon Associate, we earn from qualifying purchases at no additional cost to you whatsoever.
Lewis Hamilton finally got his season off to the start he was hoping for in Melbourne with a dominant win today at the Malaysian GP.  For the record, I think this could be the year for his second World Championship, but Nico Rosberg won't make it easy for him.  Hard to believe it was all the way back in 2008 that Hamilton won his first and only championship so far!
Lewis Hamilton is a fan of large sunglasses and 2014 is no exception as you can see in these images (snapped from my TV).  This year Lewis Hamilton has been wearing Emporio Armani Sunglasses to protect his eyes from the harsh Australian sun in Melbourne (above) and in Malaysia.
Lewis Hamilton loves his EA sunglasses so much he was even wearing them in the garage while talking with the legendary Niki Lauda at the 2014 Australian GP.
Lewis Hamilton's 2014 Emporio Armani Sunglasses
Looking at the shape and style of the sunglasses Lewis Hamilton is wearing this year they appear to be the Emporio Armani EA4002 model in colour 501787 – Black with Grey lenses.
As it turns out, these are actually a great value pair of sunnies, coming in at under £100, so you don't actually need to be a Formula One driver to be able to afford them.
More Sunglasses Worn by Lewis Hamilton in 2014
It seems like Lewis Hamilton changes his sunglasses every week, as you can see in these other photos from the 2014 F1 Season so far.
Monaco GP
During the 2014 Monaco GP weekend, Hamilton was wearing these Gucci GG 1065/S Sunglasses (above) as reported on this very site right here.
Austrian, Canadian & British GP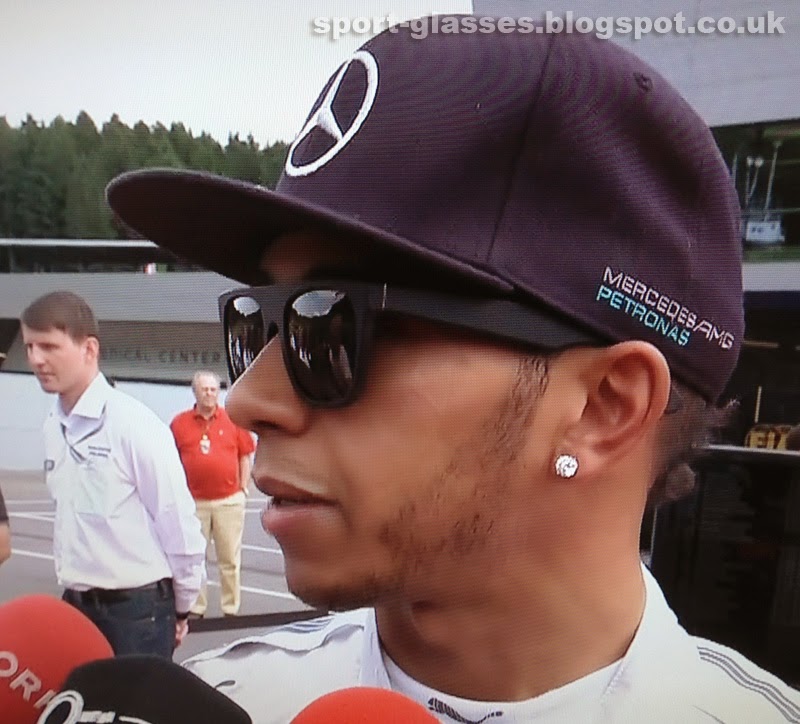 Most recently at the 2014
Austrian
, 
Canadian
 &
British GP's
, Lewis Hamilton was seen wearing this dark pair of sunglasses (above).  These have now been identified as
Super Retro Future Sunglasses
.  You can find out more about these including the exact model on this website,
right here.
While in Bahrain earlier this season he was seen wearing these similar, large, but slightly more rounded dark sunglasses (above).  If you know what these are, let us know in the comments below.
Lewis Hamilton's Sunglasses from 2013

During the 2013 Formula One season the Mercedes driver was usually seen wearing Louis Vuitton – Suspicion Sunglasses as seen in these photos from the 2013 British GP.
Make a subtle nod to #LouisVuitton Damier with the Suspicion sunglasses in matt and shiny lacquer http://vuitto… pic.twitter.com/Djr77zF3fM
— Louis Vuitton UK (@LouisVuitton_UK) April 20, 2013

About the Author: Chris Russell is obviously a massive F1 fan (how did you guess?) and works in the eyewear sector.  Chris can be found on Google+ or on @MovieRetrospect on Twitter.