Formula 1: Drive to Survive – F1 Driver Sunglasses
We're an affiliate
As an Amazon Associate, we earn from qualifying purchases at no additional cost to you whatsoever.
F1 fans (like me) are buzzing with excitement as the lights are about to go out for the new Formula One season and, as is now traditional, a new Season of the brilliant Netflix documentary – Formula 1 Drive to Survive.
We take a look at all the F1 Driver sunglasses worn in the Netflix series Drive to Survive. If you feel we've missed any, just leave a comment below or post a comment over on one of our social media channels.
Lewis Hamilton Sunglasses
Lewis Hamilton is Mr. Fashion and as mentioned in our previous Lewis Hamilton post, the F1 World Champion has launched his own collection of Lewis Hamilton Police X Sunglasses in partnership with – you guessed it, Police.
Here during the Pre-Season Photo Shoot, Lewis is wearing Lewis 06 SPLA27N Police X Lewis Hamilton Sunglasses. You might still be able to find these on Amazon here.
You can find more sunglasses from the Lewis Hamilton Police X Collection on Amazon here.
Lando Norris Sunglasses
The ever-popular Lando Norris is all thumbs and looking pretty cool in his oversized sunglasses of choice here. Lando Norris is apparently a fan of Christian Dior sunglasses. He has been snapped in various styles of the luxury designer eyewear brand.
The sunglasses worn by Lando Norris here are sadly from a previous collection and now hard to find, but we think these Dior Pressure Sunglasses with double-bridge are a good option if you're trying to get a similar look.
Check availability for Dior Pilot style sunglasses like these on Amazon.com or Amazon.co.uk.
Charles Leclerc Sunglasses
As mentioned in our previous Charles Leclerc post here, the Ferrari driver is wearing Ray-Ban RB3548NM Scuderia Ferrari Sunglasses in Gold, available from Amazon here.
Kimi Raikkonen Sunglasses
Kimi Raikkonen is a huge sunglasses fan as you can tell by the number of posts we have about him on this very site. Here Kimi wears Carrera Eyewear Sunglasses during the pre-season photoshoot.
Romain Grosjean Sunglasses
Romain Grosjean always used to be a fan of Oakley Sunglasses but in Season 3, Episode 9 of Formula 1 Drive to Survive: Man on Fire Grosjean is seen wearing these very cool Dita-Lancier LSA-407 sunglasses.
Dita eyewear frames are made in Japan to the highest standards. The Dita-Lancer LSA-407 is an Acetate frame with titanium bridge and brow bar and Titanium wire flex temples. Availability on Dita sunglasses can be limited, but you could check Amazon here.
Esteban Ocon Sunglasses
It's a little hard to tell what sunglasses Esteban Ocon is wearing here, but we'll keep an eye out for more sightings and report them here when we find out. If you think you can help, just leave a comment below or on our social platforms.
Lawrence Stroll Sunglasses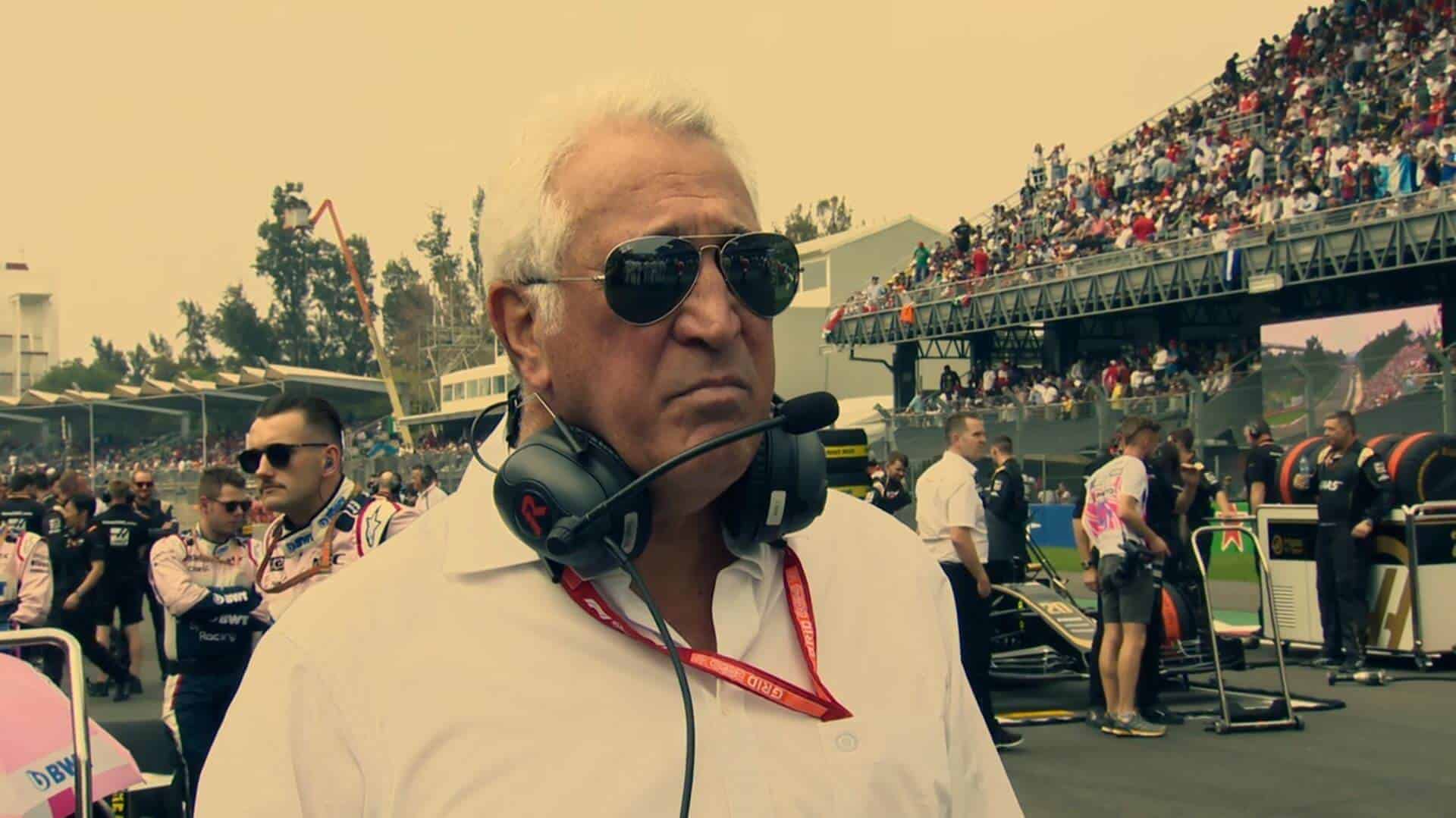 Ok, not an F1 driver, but Lawrence Stroll is certainly one of the biggest characters of the sport, so how could we ignore his Ray-Ban RB3026 Aviator Sunglasses? You should be able to find these easily on Amazon here.
More F1 Driver Sunglasses
We'll be updating this post with more F1 Driver sunglasses from Drive to Survive soon, so make sure to come back for the latest additions.
In the meantime, we've been reporting on F1 Driver sunglasses for years now, so if you're an F1 fan, make sure to check out some of our previous Formula One posts here.
Images from Formula 1 Drive to Survive © Netflix
About the Author: Chris works in the eyewear sector and can also be found on @MovieRetrospect on Instagram or Twitter.
Support The Author: I don't get paid to work on this site. If you found this helpful, please buy me a coffee, it really helps a lot.