Horrible Bosses – Jennifer Aniston in Oakley Eyewear
We're an affiliate
As an Amazon Associate, we earn from qualifying purchases at no additional cost to you whatsoever.
Horrible Bosses movie poster
Have you ever wanted to kill your boss? No? Oh… Well, maybe you ARE the boss… in which case, your staff probably want to kill you! The movie
Horrible Bosses
is an entertaining comedy from 2011 in which three friends each have their own very different horrible bosses, who they conspire to kill – needless to say, they are not exactly very good when it comes to being killers.
The film has an all-star cast including Jennifer Aniston, Kevin Spacey, Jason Bateman, Charlie Day, Jason Sedeikis and an unrecognizable Colin Farrell with a ridiculous comb-over. Horrible Bosses is a fun way to spend 98 minutes, especially if you like your comedies.
Jennifer Aniston – Dr. Julia Harris, D.D.S.
In the movie Horrible Bosses, Jennifer Aniston plays Dr. Julia Harris, D.D.S. a first-class maneater who relentlessly sexually harasses her dental assistant Charlie Day…  Lucky guy if you ask me, but apparently he has a problem with it and wants her to stop. Either that or he wants her DEAD!
Jennifer Aniston walks around in her underwear, places her unconscious patient's hands on her breasts, suggestively eats bananas or hot dog sausages and poses for raunchy photographs in compromising sexual positions… All good reasons to watch this film. But this is the Movie Glasses site, so I'm sure you're really here to find out what glasses Jennifer Aniston is wearing to do her job in the film.
Click the images below for a closer look.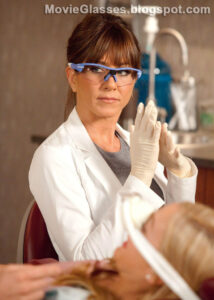 Oakley – Custom Radar Path
Most dentists would probably normally wear standard safety glasses rather than a designer brand of sports glasses to do their job, but hey, Jennifer Aniston is the boss, so she can wear what she likes… which turns out to be not that much at times 🙂
In Horrible Bosses Jennifer Aniston is clearly seen wearing Oakley Radar Path Glasses as she sexually harasses Charlie Day's character by squirting him in the groin area.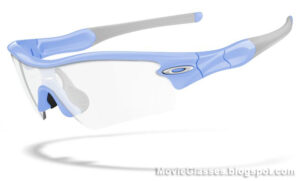 Frame Colour: Team Light Blue
Lens Shape: Path
Lens Colour: Clear Path
Icons: White (or Team White)
Ear Socks: White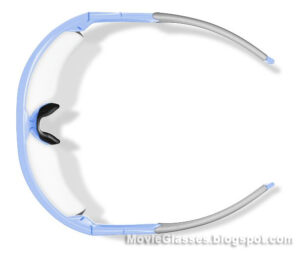 These glasses are great for sport, and their impact resistance will protect your eyes from any dangers such as tree branches while mountain biking or squash ball impacts etc. If you plan to get the Jennifer Aniston look yourself, you can also choose to have a second set of tinted lenses to go in the frame, or why not select these with photochromic lenses that change from clear to dark as you move into the sunlight.
Have fun creating your custom frames.

About the Author: Chris Russell works in the eyewear sector and can be found on Google+ or on @MovieRetrospect on Twitter.